By Anoushka Jayasuriya
It's all about chillies for entrepreneur and young mum Shivani A. Tyronne
Fiery flavours highlighting homegrown ingredients, with her line of locally produced hot sauces under the brand name Miris by Islandmom, young entrepreneur Shivani A. Tyronne combines her background in business with her love of cooking.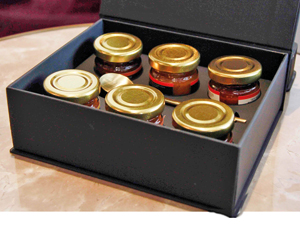 Hot hot: Shivani's Naimiris range
Shivani originally pursued a career as a brand marketer after earning a Bachelor's Degree in Business Administration from Edith Cowan University. She completed her Master's in Business Administration with the University of Wales in 2017 and soon made the decision to step away from her career for a year following the birth of her son. Returning to the corporate world was her underlying challenge at the time as Shivani shared that she applied for several positions but did not receive a call back for an interview. She says, "When you take a career break, people tend to have different opinions and thoughts – I just gave up hunting for jobs and I decided that I will do something on my own – even from my young days I remember wanting to start my own brand."
It was at the outset of the COVID-19 pandemic, with the nationwide lockdown in place that Shivani kept herself busy, learning and preparing to shape her brand. Gifted in making handicrafts, she surprised herself when she decided to pursue a culinary endeavour instead, eventually settling on the idea to create her own range of Sri Lankan hot sauces. "For me, life without chillies is a nightmare," she jokes, adding that her family was unable to acquire any chili powder or chillies during the lockdown.
The idea for her products soon came following her encounter with a farmer who had been selling his own produce out of his truck nearby. Shivani shared that she was intrigued by the vibrant red colour of the Scotch Bonnet pepper or 'naimiris', prompting her to attempt a recipe using them. At the encouragement of a colleague, she used 500g of the chillies and did some research to come up with her own recipe.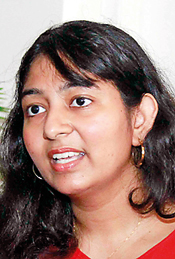 Shivani A. Tyronne: Building on homegrown tastes
Her very first jar was made using naimiris, garlic and coriander leaves, sharing it with her colleague and in turn receiving orders for 10 more jars. Utilizing her marketing background, she named her brand Miris and created her own logo and began delivering jars within a week. Reflecting on the start of her business Shivani says, "I wanted to show the world what a woman can do. Just because they have a child doesn't mean that they are no longer capable of performing their job."
Following much experimentation, Miris by Islandmom now offers five signature all natural naimiris condiment flavours, free of preservatives and ranging from flavours such as pineapple and lemongrass, passionfruit and mint, naimiris with garlic, naimiris with coffee and a chilli jam. Each product is also available in five varying degrees of spice levels. She adds that the brand's most popular product is its chilli jam, a mixture of sweet, sour and spicy flavours made using ingredients commonly used in the North of Sri Lanka such as palmyrah jaggery, tamarind and dried shrimp.
Shivani is grateful for the assistance she received as one of the small business owners selected to take part in the AccelerateHER program, an initiative by Hatch in collaboration with the US Department of State.
Under the curated 3-month programme female entrepreneurs and their enterprises are given the chance to work with the larger entrepreneurial ecosystem, gain new skills, and grow their companies.
Miris by Islandmom's products can be purchased through their website: www.buymiris.com and is available for purchase at locations such as Park Street Gourmet, Celeste, Providore and Gusta.
Follow the business on Instagram @naimiris_addict
https://www.sundaytimes.lk/230108/plus/a-business-built-on-naimiris-507301.html